Skate for Something Great!
From the time she put on her first pair of skates at four-years-old, Jôsi, has had a passion for skating. After begging for skating lessons for a year, it became hard to deny Jôsi's desire to skate. Jôsi's passion for skating has driven her to quickly accomplish much in skating and an ambition to use her talent to do something good for others.
Since the catastrophic earthquake in 2010 in Haiti –that killed over 300,000 people, injured 300,000 more and left over 1.5 million people homeless – Jôsi has been on a crusade to help Haiti. It was then that 6-years-old Jôsi decided to use her passion for ice skating to help Haiti. She and her then 4-year-old brother participated in a skate-a-thon to help Haiti at Bowie Ice Arena just weeks after the devastating earthquake.

In January 2011, to mark the one-year anniversary of the earthquake, Jôsi did a skating solo tribute/fundraiser at the University of Delaware raise money to help feed orphaned children, rebuild schools, homes, and buildings damaged by the 2010 earthquake in Haiti. In 2012, Jôsi was joined by fellow supporters to "Skate for Something Great" to help fund a youth empowerment trip to Haiti. The 4th annual event will benefit "Liv Sa" (youth empowerment literacy project in Haiti) and again include a skating tribute by Jôsi which as always is dedicated to her late Haitian-born grandparents Jôseline and Marc Pretto. With a thankful heart, Jôsi found something she loves doing -- something that provides her with a platform to Skate for Something Great!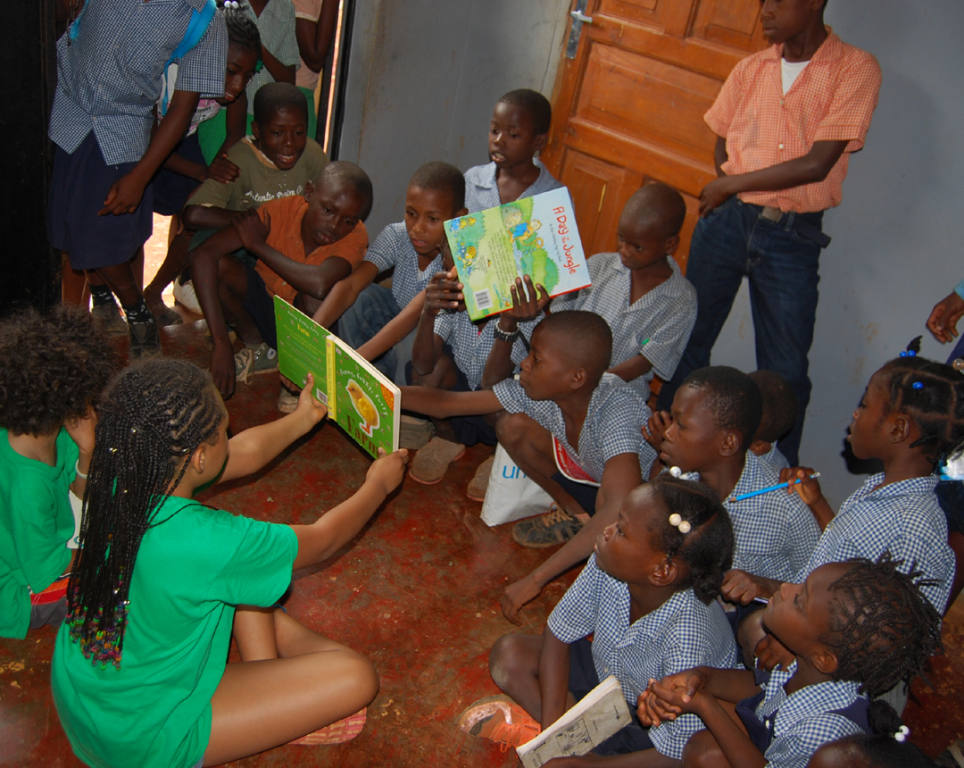 Josi helps with English Literacy Empowerment Program in
Lebrun, Haiti, Summer 2012

But for the resolve of a four-year-old, skating might have been a missed opportunity for Jôsi since no skating programs or facilities existed in her local community. This void gave the birth of Go Figure Foundation founded in honor of Josi's grandparents Joseline and Marc Pretto, both natives of Haiti.

Jôseline's grandmother embodied the true meaning of leadership through service. She demonstrated daily that everyone has the ability to make a difference for someone less fortunate. Her dedication to philanthropy was reborn in the grandchild she never lived to meet. Jôsi's grandfather was her finest example of intergrity, honesty and hard work. Sadly, he passed away as well in 2010.

The Go Figure Foundation was founded to promote and support access to quality educational, recreational and training opportunities in underserved communities. A core component of its mission is to provide empowerment and leadership programs that embrace and promote a bully-free environment and promotes confident community leaders.


Music Appreciation Program

Supporting GFF is not just for those who support the ice sports, but rather those who believe in providing children with opportunities for programs that provide educational, recreational and competitive programs that will inspire, empower and develop confident individuals in a safe and welcoming environment. It's about filling voids in underserved communities locally and abroad.

So whatever your passion, use it to do good and make a difference! Skate for something great! You can trust that Jôsi will not stop skating until mission accomplished!




Character Education: Respect, Responsibility, Trusworthiness,
Citizenship, Equity & Honesty



SUPPORT YOUTH EMPOWERMENT AND LEADERHIP!